8 de June de 2018, 12:34 pm
Alcaldesa de Washington proclama el Día del Taste of Perú Washington DC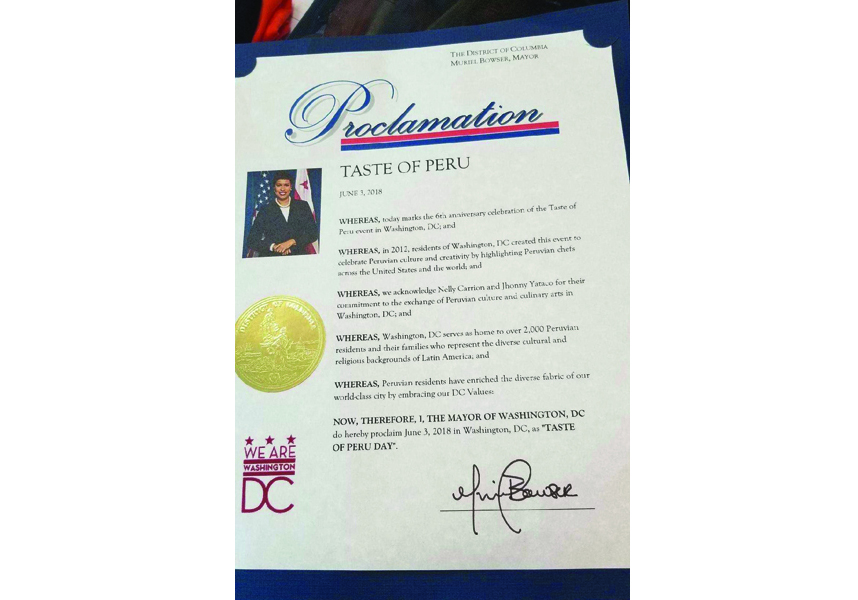 Durante una jornada de algarabía, tradición, cultura y lo mejor de la gastronomía peruana, la alcaldesa de Washington DC, Muriel Bowser, proclamó el Día del Taste of Perú Washington DC.
La proclamación fue entregada a los organizadores del evento, Nelly Carrión y Johnny Yataco durante la celebración de la sexta versión del Taste of Perú Washington DC realizada el domingo 3 de junio.
A través de la proclama, Bowser resaltó los alcances del evento al promover la cultura peruana y la creatividad de sus más reconocidos chefs tanto en Estados Unidos como en diversas partes del mundo.

Igualmente, la alcaldesa Bowser resaltó que en la capital de EE.UU. viven más de dos mil residentes peruanos y sus familias, quienes representan la diversidad cultural, religiosa y política de los residentes latinoamericanos en el Distrito.
"Los residentes peruanos han enriquecido la diversa constitución de nuestra ciudad de clase mundial abrazando nuestros valores de en DC", se lee en la proclama que representa un orgullo para toda la comunidad peruana y latinoamericana que vive en toda el área metropolitana.
En la proclama figura el 3 de junio como el Día del Taste of Peru Washington DC, pero como explican sus organizadores, responde a la fecha en la que se realizó el evento. La capital de EE.UU. ha designado que el Día del Taste of Peru Washington DC se celebre todos los años el primer domingo de junio.